ICOH 2027 Bid postponed
The procedure for the determination of the venue of the ICOH 2027 Congress, which was to be carried out in these months, is postponed to 2021 following the decision of the postponement of the next ICOH Congress to 2022.
The process and deadlines for bid submission are indicated in the Guidelines for ICOH Congress Organization, which can be downloaded from the "Core Documents" sections of this website, and will be published again in the ICOH Newsletter and Website at a later stage.

---
COVID-Response: WHO's quick survey on training and upskilling needs for Health Workers
Through the WHO Academy, the World Health Organization is rapidly upscaling training via a number of digital, easily accessible learning applications. To this aim, WHO is calling for support to design and prioritise content and delivery methodologies that support and enable health workers worldwide boost their knowledge and skills related to the COVID-19 outbreak.
ICOH members can support this initiative by participating in the survey set up by WHO and available at
https://www.surveymonkey.com/r/PHH8ZYT
.
Please be assured that this survey is anonymous, your responses will not be associated with your name or email address, and no identifiable information on any individuals will be shared or presented in the survey results.
---
---
---
---
WHO's call for Consultant - Technical Editor/Writer
Within the frame of the development of the joint estimates of the World Health Organization (WHO) and the International Labour Organization (ILO) of the work-related burden of disease and injury (WHO/ILO Joint Estimates), WHO is looking for a an outstanding scientific editor or writer with a track record in publishing in academic journals.
Read more
---
ICOH Heritage Repository of all Congress proceedings online
As a result of a two-year project, the ICOH Heritage Repository has been released. The Repository is a large digital archive created to preserve and share at the same time a precious heritage in the field of international occupational health, also relevant from the historiographical point of view. It consists of all the congress proceedings of the 32 ICOH Congresses, starting from ICOH foundation in 1906 to the present time. The Repository includes more than 20,000 scientific papers available for download in Acrobat Reader format and more than 50,000 authors listed. Therefore, the Repository represents the most complete collection of scientific contributions in Occupational Medicine available today. The Repository is accessible from a dedicated box in the homepage of the ICOH website.
---
---
ICOH 2021 Congress – First announcement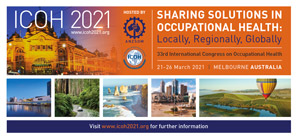 We are pleased to inform you that the First Announcement of the ICOH 2021 Congress has been released.
The ICOH 2021 Congress will be held in Melbourne, Australia from 21 to 26 March 2021.
Read more
---
---