ICOH participated in the Global Conference on Primary Health Care in Astana, Kazakhstan on 25-26 October 2018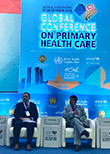 ICOH was invited to contribute to the Parallel Session on "Intersectoral Approach to Primary Health Care and Population Health Management - Policies, Interventions and Services" taking place during the Global Conference on Primary Health Care in Astana, Kazakhstan, on 25-26 October 2018.
Read more
---
Hot topics in ICOH 32nd Congress: paper in French now available
We are pleased to announce that the paper "Que retenir du 32e Congrčs de la Commission internationale de la santé au travail (CIST-ICOH)?" has been published.
To read the full text, please
click here
. (French only)
---
ICOH and IOHA participated in the United Nations General Assembly Meeting on Tuberculosis (TB) on September 26, 2018 in New York City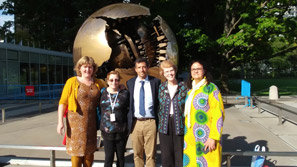 On September 26, 2018, World Leaders endorsed the
UN Political Declaration
on TB "United to End Tuberculosis: An Urgent Global Response to a Global Epidemic". The Declaration begins with the wording "We, Heads of State and Government and representatives of States and Governments, assembled at the United Nations in New York, with a dedicated focus for the first time on the global tuberculosis epidemic, reaffirm our commitment to end the tuberculosis epidemic globally by 2030 in line with the Sustainable Development Goals target and commit to end the epidemic...
Read more
---
ICOH 2018 Congress report now available
We are glad to announce that the ICOH 2018 Congress report is now available for consultation and free download.
The Congress was a great success, with over 2200 delegates, 85 grant recipients, 10 plenary presentations, 32 semi-plenary presentations, over 700 posters and 75 student poster presentations. In the parallel sessions, 852 academic presentations were delivered.
Read more
---
---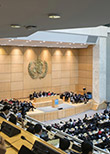 Today ICOH former President, Prof. Jorma Rantanen, will present the Joint Statement by the ICOH, IOHA and IEA on the WHO 13th General Programme of Work (GPW) 2019-2023 at the Seventy-first World Health Assembly (A71/1), Palais des Nations, Geneva, Switzerland.
Read more
---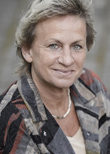 It is with great sadness that we announce the passing of Prof. Judith Sluiter on Monday, May 14th, 2018. Prof. Sluiter was Head of Department of the Coronel Institute of Occupational Health. She was also a valued and active member of ICOH for many years.
Read more
---
Dublin Statement on Occupational Health
The 32
nd
International Congress on Occupational Health in Dublin on Friday May 4
th
, 2018, adopted the Dublin Statement on Occupational Health, which expressed the commitment of ICOH to take action for prevention of occupational cancer and Asbestos-related diseases (ARDs) in collaboration with other relevant international actors. The statement was signed by Dr. Martin Hogan, president of the ICOH Congress 2018 and Dr. Jukka Takala, president of ICOH.
Read more
---
ICOH Life Achievement Award to Prof. Bengt Knave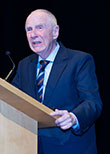 Prof Bengt Knave was the recipient of the ICOH Life Achievement Award presented at the 32nd ICOH Congress during the Opening Ceremony on 29 April 2018 in recognition of 25 years of commitment and support within the ICOH community. Prof Knave was President of ICOH from 2000 to 2003 and organizer of the 1996 Congress in Stockholm, Sweden.
---
---