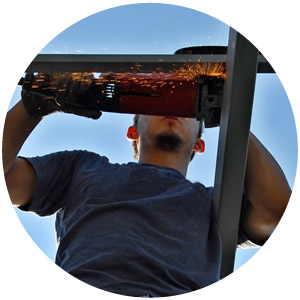 6b. Controlling Unsafe Conditions
Ventilation is a particularly important form of engineering control. Contaminated air is removed and diluted by ventilation systems, which are basically fans blowing air into the building or out of the building (exhaust). Ventilation systems can also control temperature, oxygen level, humidity, as well as the amount of dust or a chemical in the air.

Administrative controls are procedures and management policies that protect workers. For example, if work is going to be done in a dangerous situation (like a confined space, digging trenches, or with electrical hazards), the supervisor has to obtain a permit from the manager. The manager checks to be sure that they know and agree to follow safe working procedures.

Personal protective equipment (PPE) includes masks, gloves, aprons, and safety devices that workers use individually. It is the least effective type of controls because it depends too much on availability and on the worker or supervisor knowing exactly how to wear it, use it correctly, maintain it, and which type to choose. All PPE requires that the worker use it, and use it all the time around the hazard. However, there are a lot of situations where it is the only practical means of protection.