ICOH membership renewal campaign 2012 – 2014
ICOH has launched its membership renewal campaign for the triennium 2012-2014 with a letter including the Settlement Form and Contact Form sent by regular mail to all ICOH individual members, Sustaining and Affiliate members who have not yet renewed their ICOH membership for the triennium 2012-2014.
All ICOH members are invited to fill the forms in with all the requested information and return them to
ICOH Secretariat General
.
How to pay ICOH membership fees
read more
.
---
---
ICOH announces newly elected officers and board members who will serve for triennium 2012-2015
The Officers are: President Dr. Kazutaka Kogi, Secretary General Dr. Sergio Iavicoli, Vice President Ms. Suvi Lehtinen, Vice President Prof. Bonnie Rogers, Past President Prof. Jorma Rantanen

The newly elected Board Members are: Dr. Marilyn Fingerhut (USA), Prof. Giovanni Costa (Italy), Prof. Peter Westerholm (Sweden), Prof. Harri Vainio (Finland), Dr. Timo Leino (Finland), Prof. Malcolm Sim (Australia), Prof. Yves Roquelaure (France), Dr. Elia Enriquez (Mexico), Prof. Norito Kawakami (Japan), Prof. Monique Frings-Dresen (The Netherlands), Ms. Claudina Nogueira ( South Africa), Dr. Andrew Curran (United Kingdom), Dr. Mary Ross (South Africa), Dr. Edoardo Santino (Brazil), Dr. Seong-Kyu Kang (Republic of Korea), Dr. Patabendi Abeytunga (Canada).
---
Dublin, Ireland, elected as venue of the 32nd ICOH international congress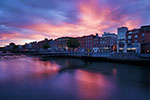 ICOH′s 32nd International Congress will be held in 2018 in Dublin, Ireland as a result of the vote held in Cancun in conjunction to the 30th ICOH Congress.
---
ICOH Cancun Charter on Occupation Health for all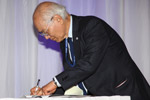 During the Second General Assembly on March 23rd 2012, Prof. Jorma Rantanen presented the Cancun Charter on Occupational Health for all as key document among the outputs of the successful Congress held in Cancun.
The Cancun Charter has been signed by the ICOH Past President Prof. Jorma Rantanen, the ICOH President Dr. Kazutaka Kogi, the ICOH Secretary General Dr. Sergio Iavicoli and the ICOH 2012 Congress President Dr. Jorge Morales Camino.
Click here to read the text
.
---
CONFERENCES
21 - 22 March 2018

Copenhagen, Denmark

Indoor Air Quality and Acute Health Effects in Offices

Read more

29 April - 4 May 2018

Convention Centre Dublin, Dublin, Ireland

32nd International Congress on Occupational Health - ICOH 2018

Read more

12 - 13 September 2018

Leuven, Belgium

Employability in the 21st Century - 2nd International Conference on Sustainable Employability

Read more