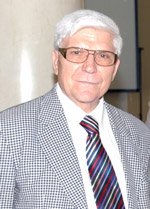 On December 23, 2016, Prof. Nikolai Fedotovich Izmerov passed away, a renowned scholar Professor, Academician of the Russian Academy of Sciences and a long-time occupational health leader and colleague.
Read more
---
Interview to president Takala after his experience in Brazil
Please
click here
in order to read Dr. Takala, ICOH President, interview after his Brazilian mission at the beginning of 2016.
---
32nd International Congress on Occupational Health ICOH 2018 (April 29 – May 4) – First Announcement released
We are glad to announce that the First Announcement for the ICOH Congress 2018 has been released.
The Congress will be held in Dublin, Ireland from April 29 to May 4, 2018 with the theme "Occupational Health & Wellbeing: linking Research to Practice".
To view the first announcement, please
click here
.
---
---
World Day for Safety and Health at Work: 28 April 2016
We are proud to celebrate the World Day for Safety and Health at Work with the International Labour Organisation (ILO). We believe that the theme of this year "Workplace Stress – A Collective Challenge" is relevant all over the world.
The International Commission of Occupational Health, ICOH, calls for action to manage stress and psychosocial risks factors at work. While individual workers around the world are affected, we should concentrate on measures at the level of workplace or organisation.
ICOH President, Dr. Takala, stated the ICOH declaration for the World Day for Safety and Health at Work of 28 April 2016.
The ICOH would like to congratulate ILO for an excellent and comprehensive report on Workplace Stress.
Read more about ICOH declaration on World Day for safety and Health at Work.
---
---
The Minutes of the ICOH 2015 General Assemblies are now available
The final release of the ICOH 2015 minutes is now available on the section Reports.
Reports and decisions adopted by the General Assembly during the 31st ICOH International Congress can be consulted in the dedicated section.
---
The ICOH Statement on Qatar 2022 World Cup and migrant workers
Based on the motion of the Officers of the SC on OH in the Construction Industry during the second ICOH General Assembly held in Seoul on June the 5th 2015, ICOH Board members adopted the ICOH Statement on Qatar 2022 World Cup and migrant workers (
download the full text
).
---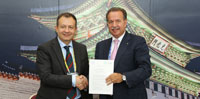 The Memorandum of Understanding on collaboration between the International Commission on Occupational Health and the International Social Security Association was signed during the 31st ICOH 2015 Congress held in Seoul, Republic of Korea.
Read more
---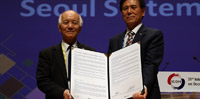 The 31st International Congress on Occupational Health in Seoul on Friday June 5th, adopted the ten-point Seoul Statement on the Development of Occupational Health Services for All, which stressed greater recognition of the importance of occupational health services (OHS) and advancement of the field trough training, education and greater global cooperation.
Read more
---