COVID-Response: WHO's quick survey on training and upskilling needs for Health Workers
Through the WHO Academy, the World Health Organization is rapidly upscaling training via a number of digital, easily accessible learning applications. To this aim, WHO is calling for support to design and prioritise content and delivery methodologies that support and enable health workers worldwide boost their knowledge and skills related to the COVID-19 outbreak.

ICOH members can support this initiative by participating in the survey set up by WHO and available at https://www.surveymonkey.com/r/PHH8ZYT.

Please be assured that this survey is anonymous, your responses will not be associated with your name or email address, and no identifiable information on any individuals will be shared or presented in the survey results.


---
Call for nominations for the election of ICOH Officers and members of the Board for the triennium 2021-2024
According to the current ICOH Bye-Laws the names of the candidates shall be submitted to the Secretary-General (ICOH Secretariat General c/o INAIL - via Fontana Candida, 1, 00078 Monte Porzio Catone (Rome) - Italy Tel: +39 0694181506 E-mail: icoh@inail.it) no later than June 21, 2020 12:00 GMT.
Read more
---
ICOH 2021 Congress in Melbourne, Australia (21-26 March 2021) - 2nd Announcement release and Keynote Speakers
We are pleased to announce you that the 2nd Announcement of the ICOH 2021 Congress has been released. (Download)

With the theme 'Sharing Solutions in Occupational Health: Locally, Regionally, Globally', ICOH 2021 will bring together occupational health researchers, practitioners and policy makers from around the world to share their collective knowledge about improving worker health and safety at the largest occupational health congress in the world.

Read more
---
CORONAVIRUS DISEASE (COVID-19) OUTBREAK: RIGHTS, ROLES AND RESPONSIBILITIES OF HEALTH WORKERS, INCLUDING KEY CONSIDERATIONS FOR OCCUPATIONAL SAFETY AND HEALTH
Coronaviruses are a group of viruses belonging to the family of Coronaviridae, which infect both animals and humans. Human coronaviruses can cause mild disease similar to a common cold, while others cause more severe disease (such as MERS - Middle East Respiratory Syndrome and SARS – Severe Acute Respiratory Syndrome). A new coronavirus that previously has not been identified in humans emerged in Wuhan, China in December 2019.

WHO is working closely with global experts, governments and partners to rapidly expand scientific knowledge on this new virus and to provide timely advice on measures to protect people's health and prevent the spread of this outbreak.
Read more
---
WHO's call for Consultant - Technical Editor/Writer
Within the frame of the development of the joint estimates of the World Health Organization (WHO) and the International Labour Organization (ILO) of the work-related burden of disease and injury (WHO/ILO Joint Estimates), WHO is looking for a an outstanding scientific editor or writer with a track record in publishing in academic journals.
Read more
---
ICOH Heritage Repository of all Congress proceedings online
As a result of a two-year project, the ICOH Heritage Repository has been released. The Repository is a large digital archive created to preserve and share at the same time a precious heritage in the field of international occupational health, also relevant from the historiographical point of view. It consists of all the congress proceedings of the 32 ICOH Congresses, starting from ICOH foundation in 1906 to the present time. The Repository includes more than 20,000 scientific papers available for download in Acrobat Reader format and more than 50,000 authors listed. Therefore, the Repository represents the most complete collection of scientific contributions in Occupational Medicine available today. The Repository is accessible from a dedicated box in the homepage of the ICOH website.
---
ICOH Mid-term Meeting and International Conference "FUTURE OF WORK. CHALLENGES AND OPPORTUNITIES FOR OCCUPATIONAL HEALTH AND SAFETY"
11 – 13 February 2020, Rome, Italy
On February 11-13, 2020 the ICOH Midterm Meeting will take place in Rome, Italy. The Italian Workers' Compensation Authority (INAIL) kindly decided to support ICOH in the organization of the Midterm Meeting, which will be hosted in the historical building of Via IV Novembre.
Read more
---
ICOH 2021 Congress – First announcement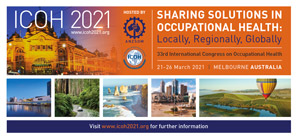 We are pleased to inform you that the First Announcement of the ICOH 2021 Congress has been released.
The ICOH 2021 Congress will be held in Melbourne, Australia from 21 to 26 March 2021.
Read more
---
UN Political Declaration on Universal Health Coverage: the importance of Occupational Health
On September 23, ICOH Secretary-General Prof. Sergio Iavicoli participated in the High-Level Meeting at the United Nations, for the adoption of the UN Political Declaration on Universal Health Coverage by Heads of State and Government.
Read more
---
ICOH Secretary-General at International Conference of Occupational Health Services – Taipei, September 2-3, 2019
The ICOH Secretary-General Prof. Sergio Iavicoli was invited as a speaker to the International Conference of Occupational Health Services, an event with a focus on mental health, held in Taipei on September 2-3, 2019. On this occasion, Prof. Iavicoli gave two lectures on mental health, one on work-related stress and the other on psychosocial risk factors.
---