ICOH, IOHA and IEA Joint Statement presented at the Seventy-first World Health Assembly (A71/1) on 22 May 2018
---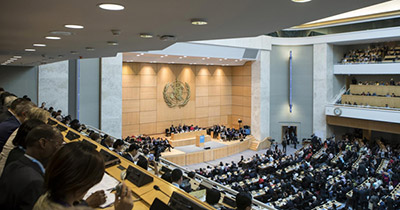 Today ICOH former President, Prof. Jorma Rantanen, will present the Joint Statement by the ICOH, IOHA and IEA on the WHO 13th General Programme of Work (GPW) 2019-2023 at the Seventy-first World Health Assembly (A71/1), Palais des Nations, Geneva, Switzerland.
For inclusion of occupational health into the content of the 13th GPW, the ICOH, IOHA and IEA, jointly propose following additional elements to the Programme:


Extension of the WHO Global Plan of Action on Workers′ Health through 2023 and inclusion to the Programme the development of specialised or basic occupational health services (including occupational hygiene and human factors/ergonomic design services) to cover all working people; the organized work life plus self-employed and informal workers in line with the WHO strategy on universal health coverage, UHC, and the UN Sustainable Development Goal No.3.


Establish WHO Global Programme for Prevention of Occupational Cancer and Elimination of Asbestos-related Diseases in line with the UN Resolution on Prevention of NCD and the related WHO Global Action Plan 2013-2020.


Enhancement of the ILO/WHO Global Programme for the Elimination of Silicosis,including workplace actions to prevent tuberculosis among silica-exposed workers and among health workers, in line with UN and WHO for tuberculosis prevention efforts.


Read the full text of the statement
---
CONFERENCES
31 August - 3 September 2020

Montréal, Canada

28th International Symposium on Epidemiology in Occupational Health (EPICOH)

Read more

12-14 November 2020

Yonsei Severance Hospital, Seoul, Republic of Korea

Joint conference of Occupational Medicine and 23rd Asian Congress on Occupational Health

Read more

6 - 11 February 2022

Melbourne, Australia

33rd International Congress on Occupational Health – ICOH 2022

Read more