Global Launch – WHO/ILO Joint Estimates of cardiovascular disease burden from long working hours
---
Global, regional, and national burdens of ischemic heart disease and stroke attributable to exposure to long working hours for 194 countries, 2000-2016: a systematic analysis from the WHO/ILO Joint Estimates of the Work-related Burden of Disease and Injury
Background
The World Health Organization (WHO) and the International Labour Organization (ILO) have jointly produced the first estimates on the loss of life and health from ischemic heart disease and stroke associated with working long hours. These are WHO/ILO Joint Estimates of the Work-related Burden of Disease and Injury. WHO and ILO were supported in this estimation by a Technical Advisory Group of individual experts.
Two systematic reviews and meta-analyses of the latest existing bodies of evidence were conducted, with Working Groups of individual experts, specifically to provide the evidence base for this study. These found sufficient evidence that working 55 hours/week or more is associated with a higher risk of both ischemic heart disease and stroke, compared to working standard hours of 35-40 hours/week.
Top line survey findings:


Globally, an estimated 479 million workers (9% of the population) were exposed to long working hours in 2016.


The number of people exposed to long working hours has increased since 2000, putting more of the population at risk of work-related disability and death due to these cardiovascular diseases.


Long working hours (≥55 hours/week) led to 745,000 deaths from ischemic heart disease and stroke in 2016 – a 29% increase since 2000.


From 2000 to 2016, the numbers of deaths from heart disease from working long hours increased by 42%, and numbers of deaths from stroke by 19%.


This work-related disease burden is particularly large in men, people living in the Western Pacific and South-East Asia regions, and middle-aged or older workers.


Exposure to long working hours is the occupational risk factor with the largest burden of disease studied to date by WHO and/or ILO
Implications of the global COVID pandemic and the future of work


Research suggests exposure to long working hours is likely to increase as a result of emergencies and economic recessions. Teleworking, for example, has increased as a result of the global COVID pandemic, and that could lead to increases in the number of hours worked; and increased job insecurity in some sectors could result in the same.


New ways of organizing work are also likely to increase the prevalence of working long hours. For example, the gig and platform economies, where workers pick up jobs in an irregular and insecure way, is likely to grow and may result in longer hours for workers.
What can be done about this?
Governments, employers and workers can take the following actions to protect workers' health:


Governments, in consultation with employers and workers, can introduce, implement and enforce laws, regulations and policies that ban mandatory overtime and ensure maximum limits on working time.


Bipartite or collective bargaining agreements between employers' and workers' associations can arrange working time to be more flexible, while at the same time ensuring that maximum limits are not crossed.


A healthy and green recovery from the labour consequences of the COVID-19 pandemic could include sharing of working hours between workers to ensure that numbers of hours worked do not climb above 55 or more per week, to prevent increased risk and burden of cardiovascular disease.
The full article is available
here
.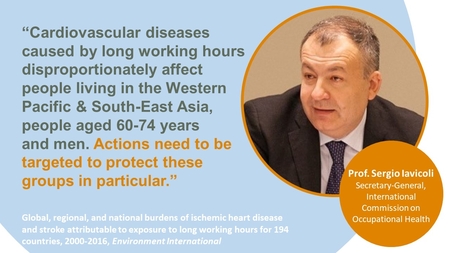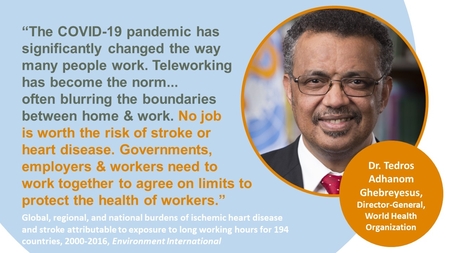 ---