ICOH adheres to "Vision Zero campaign"
---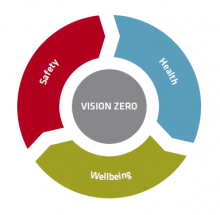 One of the most relevant outcome of the World Congress on safety and health at work was the launch of the first global "Vision Zero" campaign to improve the safety, health and well-being in the workplace and with the aim of drastically reducing occupational accidents and diseases, investing in a healthy and motivated workforce.
"Vision Zero" is based on seven success factors that constitute an essential tool for creating a strong culture of prevention.
ICOH adheres to the Vision Zero campaign as a partner of ISSA, with which has in force a memorandum of understanding.
Click here to visit the Vision Zero website.
---